About Us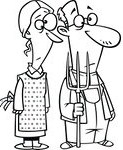 Kim's Crazy Corn Maze was established in 2005 on a section
of Walnut Tree Farm
in Castlewood, Virginia by Kim Banner Osborne and her
husband Dave Osborne.
Walnut Tree Farm is proud to be a designated Virginia Century Farm
and has been owned and operated by the Banner family for 200 years.
Kim whom has spent the whole of her life raising, training, and showing
American Saddlebred Horses was the brain behind the "crazy" idea
of starting Russell County's First Corn Maze and for
her "crazy" idea to become a reality much to Dave's disapproval
an alfalfa field had to be sacrificed in order to have a space to plant the corn.

But, working together they have formed a team sharing in the various
phases of production leading to the FIRST Corn Maze in Russell County
"Kim's Crazy Corn Maze"
Dave handles the crops and is proud to be the driver of a
1949 John Deere Tractor
that he uses to give hayrides around the maze and Kim
well she handles the bookings, concessions, and of
course the "crazy" ideas that keep the maze growing.

Kim's idea to offer a fun and unique opportunity for families to
enjoy the fall season in the great outdoors has become a yearly
family tradition in many households not only in the local county,
but also from surrounding counties and towns!!
So come see what all the buzz is about we promise you and your
family will have a wonderful time picking your own pumpkin
and trying to find your way through the maze
and don't worry we will find you if you get lost!!!